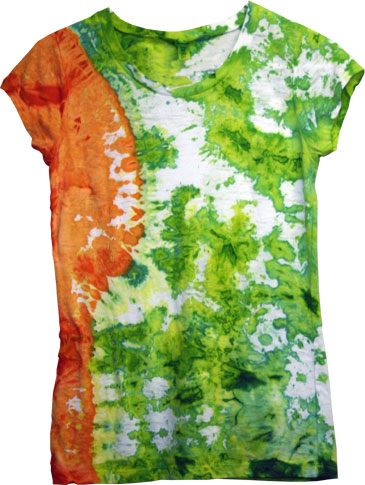 Tye Dyed BELLA® LADIES BURNOUT T-SHIRT
Ladies Sizes S - XL
• 2.2 oz. 55/45 cotton /poly • 1/2" set-in cover stitched neck, sleeves and bottom baby hem • Slim fit with extra body length
*Wholesale - These Shirts Start at $11.95 each.
---
Update - We Knew it was only a matter of time.
It appears that American Apparel caught wind we were Tye Dyeing their Products and paid a company on the west coast ( I won't splatter any names ) to teach them how to do Tye Dye in house. We sincerely hope they can tye dye better than they manufacture clothing.
If you would like American Apparel products, we are happy to produce a custom order for you, or you are welcome to provide your own garments for contract dying, however we will no longer offer their products here for sale. From the beginning we have always disliked using their products, In our opinion just about everything they offer is the lowest possible quality and construction and billed out as High Quality Apparel. As well we are not very fond of their business model which includes products manufactured by a large majority of illegal immigrants filling jobs that should be done by unemployed American laborers. We have no issues with immigrants, just the ones who are here illegally not paying their fair share of taxes.
---
We Specialize in Custom Tye Dyed Products.
T-Shirts
Long Sleeve T-Shirts
Thermal Long Sleeve Tees
Organic Cotton Shirts
Hemp T-Shirts
Sheets / Quilts
Shorts / Boy Shorts
Panties and Thongs
Baby Doll T-Shirts
Spaghetti Strap Shirts
Socks and
All Kinds of Cotton Based Items.
View Photos of Our Basic Tye Dye Patterns Here...
Contact Us at 770-489-2213 for More Information or
E-Mail Us at CrazyNativ@aol.com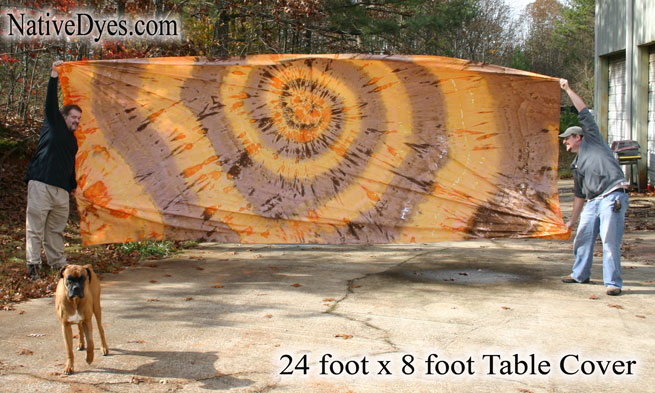 Check out the Largest Tye Dye we've ever done. This Cotton/Polyester Table Cloth measures 24 foot x 8 foot and was dyed for a Thanksgiving Banquet Table Cover in 2009.